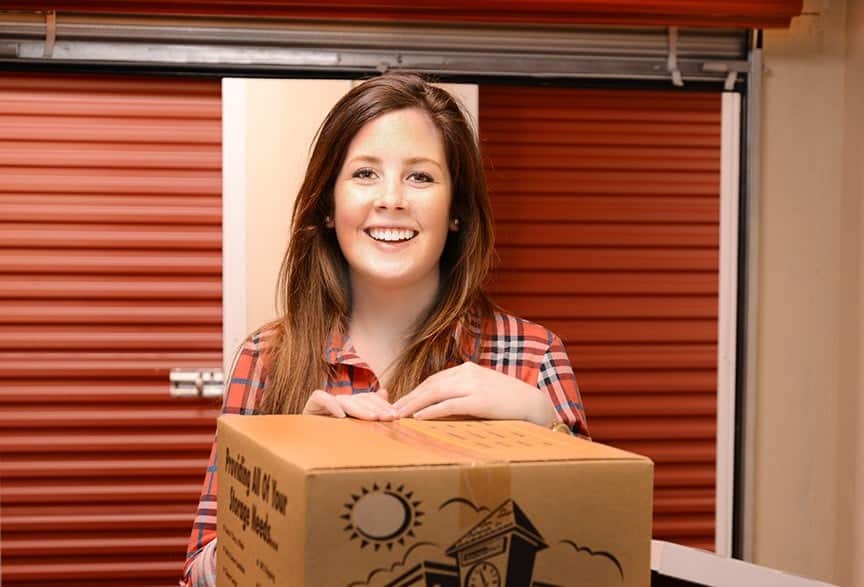 Hadley Leasman's college student storage made her artist's lifestyle much more palette-able.
"I've acquired a lot of stuff being an art major at Mizzou over the last few years," said the senior at the University of Missouri. "My Mom wasn't going to move them back and forth to Chicago every semester in our little car."
Hadley's mom has rented a 6×6 storage unit at a StorageMart location in Columbia, MO, for four years to store her daughter's personal belongings over summer breaks. Furniture, silverware, and cooking supplies are some of things that don't need to make the 12-hour round trip to her home. "Without self storage, I'd have to get rid of stuff or take it home. This way when I come back to school, my stuff's ready to go and I don't have to rebuy anything."
Hadley is a fine art major with an emphasis on drawing and painting, but she isn't creating any life-size art – yet. "For now, I can roll up most of my art, so I'm not storing anything really big. I have a real piece of mind storing things in my climate-controlled unit at StorageMart. My art supplies don't melt and I know my things are in good hands."
"My mom found StorageMart when I first came to Columbia. We were both very confident it was the right place for us," Hadley said. But the service kept them coming back. "Rhonda's incredible," exclaimed Hadley, complimenting store manager, Rhonda Ring.
"They're a sweet family," said Rhonda, who has been a store manager for nearly 10 years. "Her mom was very concerned that her daughter's things were well-taken care of. I realize that those dorm fridges and boxes of clothing are really important to these kids."
Convenient college student storage provides a comfort level for parents, especially when students attend out-of-state schools. "I know it's exhausting work helping your daughter get set up in a far away town," said Rhonda whose two granddaughters just graduated from college.
Hadley will graduate this spring and will have to move everything she owns back to Chicago or perhaps to northern California. "I'm gonna miss her," said Rhonda. That family's been my favorite!"