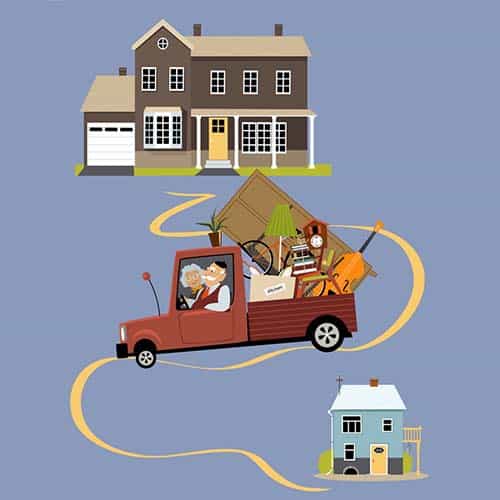 Storage Tips Help Retirees "Re-store" Their Treasures
Congratulations! After a lifetime of hard work, you're ready to retire so you can start enjoying your golden years. The idea is to work less and relax more, and like any major life change, it's a good time to evaluate what you'll need to enjoy your new lifestyle. Welcome to the world of "Less is More!"
Who needs four bedrooms and 2 1/2 bathrooms when your children are happy in their own homes? Downsizing to a home that fits your new lifestyle will save you time and money, which you can use to visit your kids or travel abroad. But what will you do with a lifetime of treasures that won't fit in your new place? These storage tips can help you determine what to store.
Items to Keep
Make a quick sketch of your new home or download a free app like Amikasa to see what furniture will fit in your new home. This will show you how much furniture you'll need to store. Of course, you'll need all your appliances, kitchen goods, and things you use daily. Here's a good rule of thumb; if you use it weekly, you'll want it handy.
Now it's time to sort the "re-store" your valuables, which will likely be stored into one of three categories;
Donations
Local charities can provide a new home for bikes, sporting gear, and that spare coffee pot you've never used. You'll make those volunteers smile if donations are clean and in working condition. Most nonprofits will give you a www.viagracoupons.net receipt so you can deduct your donation on your taxes. Many charities will pick up donated furniture too, saving time and your back!
Trash
Believe it or not, some things never come back in style and have little or no value to anyone. And your wife was right – that moose head has seen better days. Call your trash collector ahead of time before you throw out any unusual garbage, in size or substance. There might be a small fee, but when it comes to trash, "Out of sight, peace of mind."
Store
Now you can look at what you'll need to store, which could include things like:
Antiques you're not ready to sell or give away
Seasonal decorations
Seasonal clothing
Family keepsakes
Motorhome
Fishing boat
Hobbies
Think of self storage as an off-site attic that's easy to access and if your storage needs change, it's easy to rent more or less space on a monthly basis.